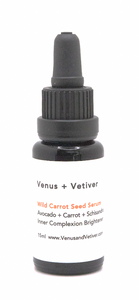 Dermis Nourishing Pre-Moisturizer Anti-Aging Active Carrot Root, Avocado, Sea Buckthorn, Schisandra Berry, recommended for dry, sun damaged, as well as irritated skin.
Regenerating, Firming Fresh and fragrant, Wild Carrot Seed Serum provides bioavailable, dermis nourishing organic fatty and essential oils for all skin types. Organic avocado oil combines with sea buckthorn berry fatty oils, and wild carrot seed from the umbel.
Plant medicine:
Avocado Oil: Outstanding regenerative properties, rich in Vitamins A, E, and E.
Sea Buckthorn Berry Oil: A natural source of otherwise highly unstable vitamin C, composed of highly nourishing fatty acids (palmitic palmitoleic, and oleic)
Vitamin E: An antioxidant that prevents the formation of free radicals on the skin and protects it from damage. It also has anti-inflammatory properties and is fully absorbed by the epidermis.
Carrot Seed: One of the best cell regenerators, especially for mature skin. Has significant antioxidant activity and is thought to promote tone and elasticity to the skin cell tissue through its ability stimulate the formation of red blood cells
How: Apply one or two pumps to hydrosol-moistened palm; rub palms together vigorously to hand-emulsify and apply to skin after cleansing.
Contents: All Organic Avocado Oil, Sea Buckthorn Berry Oil, Vitamin E; Essential oils of: Carrot Seed, Lavender Mailliette, Geranium {External use only}
15ml