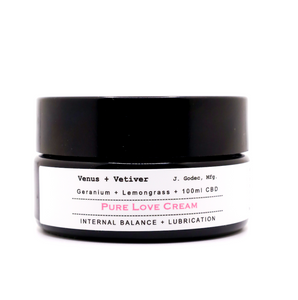 50ml with CBD (100 mg)
All of our CBD products are Organic, Broad-Spectrum, Colorado-Grown-and-Made, and Batch-Tested. They are simply the best!
An unctuous cream designed for dryness and lubrication. Appropriate for dry hands and bodies, but also the mucous membranes and the particular needs of perimenopausal woman (hint). All essential oils are antibacterial, but some are especially supportive of mucosal lining. The oils in this formulation - coconut and shea (fatty) and essential oils of geranium, tea tree, lemongrass, lavender, and peppermint are also anti-fungal and support healthy vaginal flora.

Ingredients: Raw organic coconut oil and shea butter, non-GMO vitmain E; wild harvest or organic essential oils of geranium, lemongrass, tea tree, lavender, and peppermint.

Directions: Apply as needed using freshly washed hands. To maintain healthy mucosal flora, do not use essential oils daily on mucous membranes; use up to two weeks, then let skin "rest" up to a week. Discontinue if irritation occurs. Contains oil; may stain clothing.
This statement has not been evaluated by the Food and Drug Administration. This product is not intended to diagnose, treat, cure, or prevent any disease.