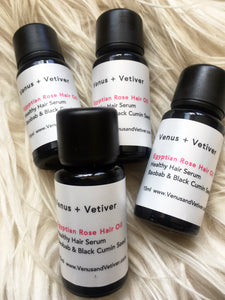 Dry scalp, fragile hair, and thinning are some unfortunate hallmarks of growing up (and up, and up). Just as facial and body tissue needs special attention to remain vital, so does scalp and hair. This exceptionally rich, fragrant, and readily-absorbed hair oil supports a nourished scalp and shiny, thick, healthy hair.

Black Cumin Seed: Nigella sativa (Black Cumin Seed oil) has been used medicinally for 2,000 years. The prophet Mohammad described it as "a remedy for all diseased but death." Modern clinical reveal a broad spectrum of therapeutic benefits including immune system, inflammation, and hypertensions support. Of particular interest is the anti-tumoral effect in pancreatic and prostate cancers. It is also widely used for eczema, allergies, and to promote hair growth and overall scalp and hair health.

Baobab: Nourishes and improves skin elasticity and soothes dry skin. Contains moisturizing Vitamins A, D, E and F, which help to rejuvenate damaged skin cells. Rich in omega fatty acids, baobab oil fighting free radicals. Readily absorbs into skin and hair.

Rose: Delicately full-bodied, luxurious, steam-distilled rose (also called rose otto) has an astringent effect on oily skin, reducing redness and puffiness, and has a slight tightening effect. A very effective moisturizer, rose has a general stimulating and antiseptic action which is useful for all skin types, but especially so for dry, mature and irritated skin. It is also used to repair broken capillaries. antispasmodic, antiviral, anti-inflammatory, aphrodisiac and antiseptic, supports reproductive system, treats menstrual problems, hypertension and anxiety, aids circulation, reduces scarring, brings balance and harmony

Geranium – Skin healing and balancing. It's natural astringency tights and lifts skin and improves circulation.

Contents: Organic Baobab Oil, Organic Black Cumin Seed Oil, Essential Oils of Geranium, Rose, Lavender, Rosemary verbenone, Bitter Orange
This statement has not been evaluated by the Food and Drug Administration. This product is not intended to diagnose, treat, cure, or prevent any disease.