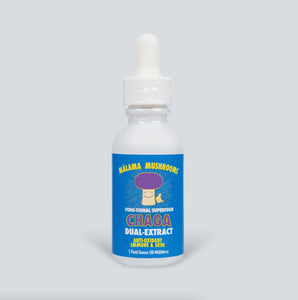 What is Chaga Tincture?
A type of dietary supplement made from the Chaga fungi, extracted into a liquid form. We do a triple-wash, dual-extract, from cold alcohol, to hot-water, back into alcohol. All with Hawaiian honey meadshine
What are the benefits of taking Chaga Tincture?
Claims include improved immune system function, reduced inflammation, and enhanced anti-oxidant levels which has anti-cancer cell & increased skin health potential.
How should Chaga Tincture be taken?
It is typically recommended to take 1-3 droppers full per day, mixed into a beverage or added directly to the mouth.
Malama Mushrooms is from the Big Island and only uses the fruiting body of mushrooms. Some mushroom formulae are from dubious origins and can be made with the more abundant mycelium, the underground network of the mushroom. Fruiting bodies have a significantly higher amount of beneficial compounds compared to mycelium.
100% organic mushroom fruiting-bodies
USDA Certified Organic
Grown on natural wood substrate when applicable
Steam processed for bio-availability & absorption
No added starch, mycelium, grain or fillers of any kind
Third-party tested by accredited lab